→
Products
→
Flat Milled Dies
Flat Milled Dies
Flat Milled Thread Rolling Dies
Self –Tapping Screw
There is wide range of flat thread rolling dies for different applications of tapping screws.

Thread Rolling Dies for TAPTITE® PRO™

TAPTITE® PRO™ thread forming fasteners advance current thread forming technology with the
development of the Parabolic Profile™ thread form. The innovative new thread form, when combined
with the proven TRILOBULAR® cross section, provides low thread forming
torque, excellent resistance to vibrational loosening along with high axial pullout and reduced overall
cost of assembly. (Image & Info. Courtesy: Conti Fasteners)


Thread Rolling Dies MATpoint® VR™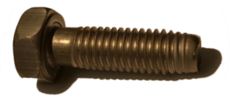 Standardize lead thread shape,ensuring everymanufacturer produces the samethread reducing the
set-up time and complexity. Improves the fastener's 'False-thread' prevention.
It makes even shorter MATpoint® products possible. (Image & Info. Courtesy: MAthread).


Dies for Miniature Screws
Kadimi manufactures flat thread rolling dies considering the specific needs of our customers very much into account. Kadimi offers customization in accordance to the required material and machinery specifications Our designs facilitate minimizing machine set up times and providing significant savings on costs per each threaded piece
Special features
LF TECHNOLOGY
Kadimi LF dies are developed to help roll the best quality fasteners without modifying any of the processes (e.g. blank preparation and machine operation). In controlling manufacturing variables to yield lap-free threadd fasteners, LF technology
Helps maintain normal production rates and machine speeds – even when rolling critical fasteners with harder materials.
Enhances control of grain flow, whereby LF dies begin forming the thread crest almost immediately; no other thread rolling dies in the world has this capability.
Improves Physical charateristics of the fastener due to controlled nature of material displacement. Specifically ,the smooth surface finish and compressive residual stresses introduced by rolling make rolled fasteners Stronger in fatigue,shear and tensile strength.
RRO: Radius Run –Out
Flat thread rolling dies with sharp corners on the run out threads generates stress concentration areas which result in fatigue cracks in the thread rolled screw. With the Radius Run Out (RRO) offered by KADIMI, the smooth radius in the root of the thread continues right up to the point where the thread blends in the shank of the screw. This Radius Run Out was designed for rolling high strength aerospace bolts, however, it is available on all KADIMI dies.
Licensed Products